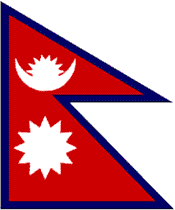 Kingdom of Nepal

Ruler: King Birendra Bir Bikram Shah Deva (1972)

Prime Minister: Krishna Prasad Bhattarai (1999)

Area: 54,463 sq. mi. (140,800 sq. km)

Population (2000 est.): 24,702,119 (average annual rate of natural growth: 2.3%); birth rate: 33.8/1000; infant mortality rate: 75.9/1000; density per sq. mi.: 454

Capital and largest city (1993): Kathmandu, 535,000

Other large cities: Lalitpur, 190,000; Biratnagar, 132,000

Monetary unit: Nepalese rupee

Languages: Nepali (official), Newari, Bhutia, Maithali

Ethnicity/race: Newars, Indians, Tibetans, Gurungs, Magars, Tamangs, Bhotias, Rais, Limbus, Sherpas

Religions: Hindu, 90%; Buddhist, 5%; Islam, 3%

Literacy rate: 38% (1993)

Economic summary: GDP/PPP (1998 est.): $26.2 billion; $1,100 per capita. Real growth rate: 4.9%. Inflation: 7.8%. Unemployment: n.a.; substantial underemployment (1996). Arable land: 17%. Agriculture: rice, corn, wheat, sugarcane, root crops, milk, water buffalo meat. Labor force: 10 million (1996 est.): agriculture, 81%; services, 16%; industry, 3% (note: severe lack of skilled labor). Industries: tourism, carpet, textile, small rice, jute, sugar, and oilseed mills, cigarettes, cement and brick production. Natural resources: quartz, water, timber, hydropower potential, scenic beauty, small deposits of lignite, copper, cobalt, iron ore. Exports: $394 million (f.o.b., 1997 est., but does not include unrecorded border trade with India): carpets, clothing, leather goods, jute goods, grain. Imports: $1.7 billion (c.i.f., 1997 est.): petroleum products, fertilizer, machinery. Major trading partners: India, U.S., Germany, U.K., Singapore, Japan.


Geography
A landlocked country the size of Arkansas, lying between India and the Tibetan Autonomous Region of China, Nepal contains Mount Everest (29,035 ft.; 8,850 m), the tallest mountain in the world. Along its southern border, Nepal has a strip of level land that is partly forested, partly cultivated. North of that is the slope of the main section of the Himalayan range, including Everest and many other peaks higher than 8,000 m.

Government
In Nov. 1990, King Birendra promulgated a new constitution and introduced a multiparty democracy in Nepal.